The Courts are Ready for Action!
Please Note: There is additional work to be done relating to the parking and entry area.
Clean shoes on the foot mats provided before entering the facility.
When possible, change "street" shoes to court shoes, before play.

Be mindful of dirty shoes when entering the facility as we do not have our 6′ cement apron installed at this time.
These Courts Are Reserved For



CLPA Members

Only Play from 8 am to Noon – Monday thru Friday.
Below are the initial play rules for the new facility:
We use Playtime Scheduler.
Each day during Prime Time (8a-12p), you should see two sessions available for selection for play at the Ironton Courts: 8 a.m. to 10 a.m  and 10 a.m. to Noon.
We will have a court dedicated for beginners, so if you are new, please come and play, we can help you if you wish!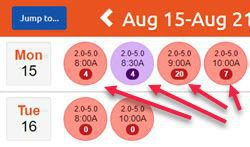 When you log into Playtime Scheduler, you will see the pop-up notice notifying you the sessions for CLPA Members. You can then click on the time slot and see who is planning to play at that time.

---
ARE YOU A NEW PICKLEBALL PLAYER?
New players are encouraged to learn the game by playing.
Seek players with similar experience, ability and skills. Play during CLPA Prime Time during the Beginner / Recreational sessions to build your comfort level and confidence.
Ask and be open to tips from more experienced players. Come and play during CLPA Prime Time during Open Play from 8 a.m. to 12 p.m. where you can play with more experienced players who are glad to share tips and pointers.
CLPA has identified several local Pickleball Professionals/Instructors who may be willing to offer lessons and clinics for beginners as well as experienced players. These training sessions will likely be associated with a fee. Stay tuned for more details – we will announce these opportunities when available.
CLPA Prime Time Play Guidelines When All Courts Full and Players Waiting
All games played to 11, win by one.
Waiting players (up to 4) place paddle in the paddle holder next to the court gate. You are next to play on that court at the completion of the current game.
Waiting players encouraged to pick a court with similar skill level to keep it fun for all.
If only 1 or 2 players entering a court, the winners of the previous game have the option to stay or leave and new players have option to play the winners or split the winners.
Limit warm up time to 5 minutes.
---